Belong
Diversity, Equity, Inclusion, and Belonging at HHSOM
This is the new online home for DEIB initiatives at HHSOM.  We have long championed a shared community and welcoming environment, but are boldly reaffirming those commitments as part of our core values.  These are ongoing efforts and we aim for this page to communicate much more in the near future.
Land & Labor Acknowledgement
Our activities at the University of Georgia take place on land that European colonizers stole from Indigenous peoples through violence. Eleven different Native American tribes lived on what is now considered Georgia.  The Athens area included the Mvskoke Creek (Muscogee and Creek), and possibly Cherokee.  Enslaved people (primarily Indigenous and of African descent) likely provided exploited labor on the land where the University of Georgia was built.  The contributions and history of these peoples--including musical culture--has not been a part of the collective consciousness in our UGA community.  As we begin and/or continue to understand the history of education and our own roles in these systems and institutions, it is important for each of us to recognize the histories of and on this land as integral to becoming thoughtful and inclusive artistic citizens.  
For more about indigenous work in higher education, please explore the work of ACPA's Indigenous Student Affairs Network. For more information about indigenous land, please visit https://native-land.ca and https://nativegov.org. 
Mission and Values
At the Hugh Hodgson School of Music, we believe that music can be a force for good in a rapidly changing world. We are committed to guiding students toward artistic citizenship, and to improving the world through creativity and scholarship.
We value music and music-making in all cultures and acknowledge that different cultures perform, listen to, and make music in a variety of ways and contexts. We honor that diversity.

We value music-making at all levels, from beginning amateurs to seasoned professionals.

We value the history and culture of music in Athens, the State of Georgia, and their diverse communities.


 
Current Efforts
The Hugh recently implemented an ad hoc DEIB Committee.  Formalizing and highlighting this work is needed and long overdue, sentiments expressed in a public statement from Summer 2020: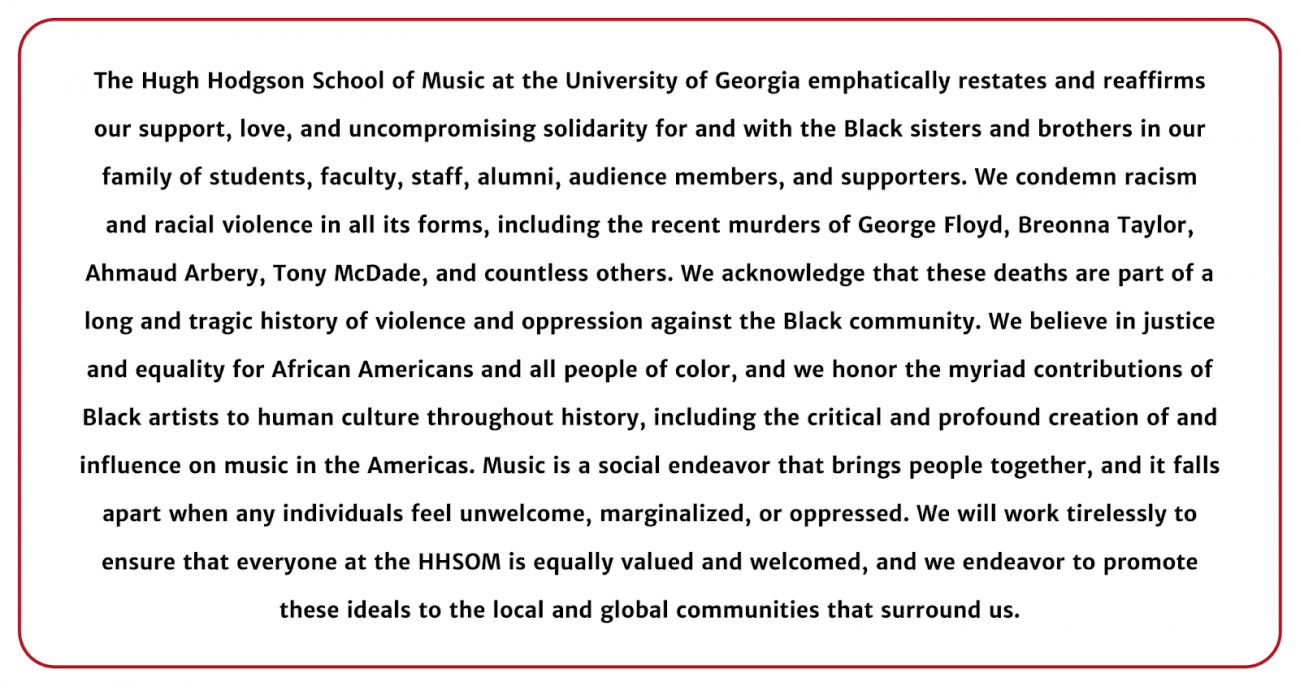 The actions, events, and initiatives that arise from the DEIB Committee will be updated on this page.
Students for Actionable Anti-Racism and Inclusion (AARI) is an autonomous student committee formed in 2020.  Two faculty members advise the group, which acts independently to facilitate conversation, build coalition, and lead actionable steps that make our community a more equitable place to learn, live, and make music.  AARI's first step involved creating their own website that hosts valuable education and advocacy resources, details about the committee, and a regularly updated news blog.
#HughBelong
Report a Concern