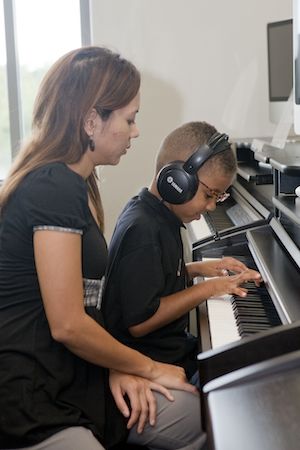 A complete program for beginning piano students between the ages of 6-10.
What makes Keyboard Kids different from other private piano lessons?
Students enrolled in Keyboard Kids receive weekly 30-minute private lessons with a teacher AND weekly 45-minute group classes with other beginning piano students of similar age and ability. It is the enormous benefits gained from participating in the weekly group classes that sets the CMS Keyboard Kids program ahead when it comes to piano lessons for students between the ages of -10 in the Athens area!
While the weekly private lesson and one-on-one attention is essential for learning the fine points of playing the piano, group classes are also an integral, and not optional, portion of the Keyboard Kids curriculum. Group classes give the students an extra 45 minutes of instruction per week; strengthen the skills that students have already learned in a fun, social, and interactive setting; allow the students to move at a much faster pace which increases motivation; allow students to gain confidence by playing for others on a regular basis; and allow students to learn as much from each other as they do from their teachers and parents. Keyboard Kids group classes will be held Tuesdays between 5pm and 7pm and Thursdays between 4pm and 7pm depending upon the level of the child. Our semesters include 12 weeks of private lessons and 8 weeks of group classes.
Group classes are held in one of our two state-of-the-art piano labs in the Hugh Hodgson School of Music. Each lab contains 12 keyboards plus a teacher keyboard, Mac computers at each student station, and a projector and screen so everyone can read the music together when appropriate. Each keyboard is a Yamaha Clavinova equipped with a wide variety of sounds, timbres, back-up beats, and headphones. Students have the opportunity to work in small groups with headphones, individually with headphones, and as a whole group without heaphones. Our group classes are small (no more than 9 in a class) with multiple teachers on hand to be sure everyone receives equal attention. The Mac computers allow for extra practice in note-reading and theory, and allow students to record themselves and make CDs.
Another integral aspect of the Keyboard Kids curriculum is you, the parent! You are the most important person in your child's life and your participation and active support can play a significant role in the development of your child's musical skills and enjoyment. Parents of students in our Keyboard Kids program will be requested to attend all lessons and are encouraged to attend group classes, are responsible for taking notes and learning effective practice strategies from their child's teacher, and will be encouraged and mentored on how to promote a successful learning environment for the student at home. Parents of new Keyboard Kids students are strongly encouraged to attend a parent orientation meeting prior to the start of lessons. Please be sure your registration is completed on time so you can be notified of the meeting time and date. Some semesters, we have a waiting list for this program, so early registration is best! Click this link to pay $25 to reserve your spot on the waiting list. Once on the list, we will confirm with you before the start of the next semester with details about getting started. If at any time you would like to be taken off the waiting list, just let us know and we'll refund your payment in full.
In addition to the tuition listed on our Fees page, Keyboard Kids participants will be required to purchase two music books and a CD to begin their study.
Prior to the first lesson, new students will need to purchase the following:
Music Tree Time to Begin Lesson book
Music Tree Time to Begin Activities book
Music Tree Time to Begin Accompaniment CD
We have provided a link to the publisher of these books above for your reference, but recommend that you purchase them locally from Chick Music in downtown Athens.
Prior to beginning lessons, students are required to have an instrument in the home for daily practice. While an upright or grand piano are much preferred, students may use an electronic keyboard IF it is a full-size, 88-weighted-key, electronic keyboard. Please be sure to secure an instrument BEFORE the start of private lessons. Please don't hesitate to contact the CMS office if you need assistance acquiring an instrument.